The MVP is the "Most Valuable Player" everybody wants on their jobsite or in the office. These All-Stars see things others don't, and adjust where others won't. These people are top performers, innately gifted but with an unusual work ethic, a tremendous drive; intelligent leaders but with a tempered ego.
They outperform average employees by a factor of 4, and their contribution is closely correlated to the company's overall financial performance. Talk about on time and under budget!
So how do we get these MVP's to join our team, and how do we keep them on board?
Research shows that top players change jobs for a clear career advancement and an undeniable growth opportunity. Therefore, you must answer this one question in a compelling way:
Why would someone find your role attractive?
Put yourself in the candidate's shoes. Would you want the job that you are pitching, or is it a mere lateral move? And if it's a true career move, then does the job statement portray this among the dozens of emails or phone calls they're getting from recruiters that week?
To stand out from among the noise and hire the best people, you've got to sell the future. 
As Lou Adler, Performance-based Hiring and recruiting pioneer (who literally wrote the book), says – You've got to change the game in recruiting.
The truth is, most construction job descriptions or ads don't communicate incentives or clearly paint the picture of opportunity. And in this tight talent market, you can't afford vanilla job descriptions that will never stand out among the dozens of emails and phones calls top talent receives in a week.
You've got just one chance for a first impression…so what will it be?
In marketing speak, selling the future is called the Employee Value Proposition (EVP). 
The EVP is the "collective pitch" used to market your opportunity to top candidates who aren't actively seeking your position.  It encompasses the following:
Your company culture
Job opportunity
Career advancement and increased responsibility
A larger impact
Salary/benefits
Selling the future and pitching career advancement with a strong EVP is critical to your hiring success.  To help you get started on creating a strong EVP in your job descriptions, here are 4 templates, or examples, of EVP's for your open positions.
Templates
VP of Operations:
Attention Grabber: "Set the Vision and Write Your Ticket"
Body/Description: "We are looking for an entrepreneurial leader capable of shaping the direction of the company by setting vision, elevating processes and metrics to execute projects flawlessly on time and under budget with the goal of doubling revenue in the next 3-5 years and potentially take the next step as the company president."
"We are an industry-leading construction firm ranked among the top 100 by ENR for the last 8 consecutive years, and honored by Forbes as one of the best places to work in 2016."
Superintendent for Large City Projects:
Attention Grabber: "Heir Apparent"
Body/Description: "The guard is changing and we are looking for our next "heir apparent" General Superintendent on some of the most well-known projects in Chicago.  If you want to look at a city skyline and say – "I helped build that", then let's talk as this is position will be responsible for our largest projects and is slated for leadership growth in years to come."
"We have been named, again, for the 7th year in a row as one of ENR and DBIA's TOP Design/Build firms in the nation."
Project Manager:
Attention Grabber: "Aggressive Expansion – New Opportunities for Growth"
Body/Description: "We are looking for an up-and-coming Project Manager who wants more responsibility with a runway for growth. We have an aggressive framework in place for vertical and horizontal expansion (new offices, new markets), and a structured 3 phase leadership program to develop qualified people to advance and eventually lead these new initiatives."
Project Engineer:
Attention Grabber: "Be an Emerging Leader on the Cutting Edge of Construction Technology"
Body/Description: "We're an industry leading $500M employee-owned company on the cutting edge of construction technology and methodology.  We invest in our people with the best technology, training and mentoring in the industry.  Prove yourself as a Project Engineer and you will have the opportunity to advance to Management levels quicker than your peers."
Use these examples above can be a springboard in writing your next job description. The strong EVP is only one piece of the puzzle, but an important first step in attracting your next MVP.
Whether it's creating a strong EVP to attract top performers in the construction industry or learning how to guarantee your quality of hire, Titus Talent is here to help. Click the button below to start a conversation.
Refreshing perspectives and practical expertise from the Titus team.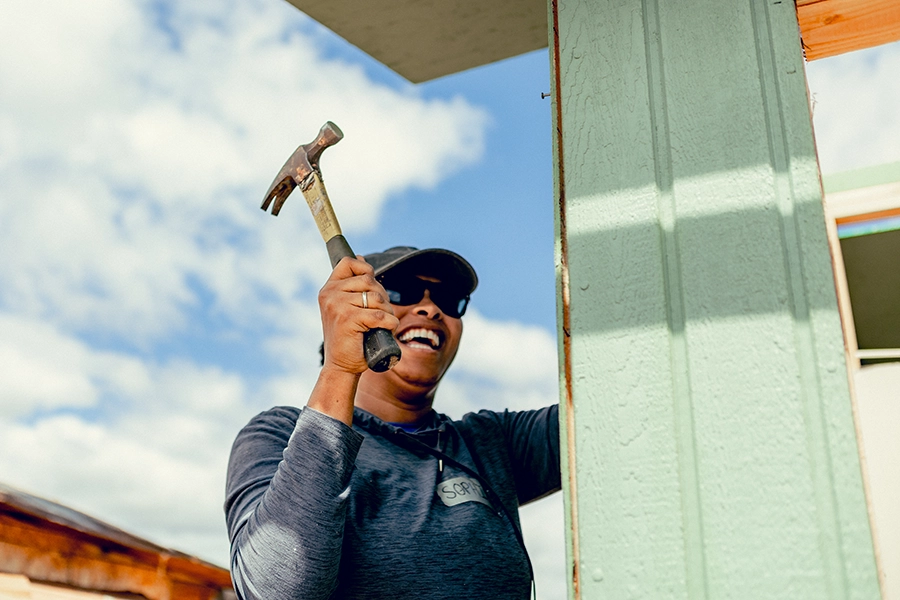 Talent Strategies
Our dedication to radical generosity keeps us focused on what matters most, and it allows us to make a trusted and lasting impact on the world around us. It's the foundation of our culture and our partnerships.